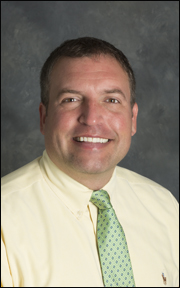 Director, Dr. Chris Burkett
Dr. Chris Burkett brings to the College of Education 25 years of teacher education experience. Most recently, he served as the Associate Provost for Administrative Affairs at Columbia College.  During his eleven years with Columbia College, Dr. Burkett was a tenured Full Professor of Education who also served as the Head for the Division of Education for four years.  As Head, Dr. Burkett successfully lead the Division of Education through its NCATE legacy site visit. During his time at the College, Dr. Burkett also was instrumental in beginning the graduate program in Higher Education Administration.  Dr. Burkett spent considerable time at Columbia College recruiting and teaching in their Middle Level Program, where he also mentored teacher candidates during their middle level field experiences. One of Dr. Burkett's other focuses at Columbia College was adding coursework to online platforms, as well as training faculty to use similar platforms.
Previous to his work at Columbia College, Dr. Burkett spent two years working in the Department of Education at his undergraduate alma matter, Newberry College.  While at Newberry College, Dr. Burkett's emphasis was on working with teacher candidates in the field, revamping undergraduate teacher preparation curriculum including the student teaching seminar, as well as implementing a technology course required for all teacher candidates. In 2012, Dr. Burkett was inducted into the Newberry College Hall of Master Teachers.
Dr. Burkett began his teaching career as a social studies teacher and athletic coach at Dutch Fork High School in Lexington School District Five, were he served for eleven years. While at DFHS, Dr. Burkett taught American Government, Economics, and World Cultures.  He coached several sports and sponsored numerous clubs. Dr. Burkett was named Teacher of Year for the 1999/2000 academic year and was named the South Carolina First Year Teacher of the Year in 1994.
Serving his profession outside of academia is very important to Dr. Burkett.  He has served in various roles at the South Carolina Department of Education including chair of the Professional Review Committee (PRC) and a NCATE/CAEP state program reviewer. He has also served on the Board of Directors for CERRA (Center for Education Recruitment, Retention, and Advancement), SCASA (South Carolina Association of School Administrators), and SCATE (South Carolina Association of Teacher Educators).  Dr. Burkett served as Editor of the Teacher Education Journal of South Carolina from 2008-2016.  For his work with the journal and in teacher preparation, Dr. Burkett was conferred the Exemplary Service to the Teaching Profession Award by SCATE in 2016.
Dr. Burkett is passionate about middle level teaching as indicative of his work with middle level teacher candidates while at Columbia College.  Along with this work, Dr. Burkett has been a member of the MLTEI (Middle Level Teacher Education Initiative), as well as a former regional representative and past president of SCPoMLE (South Carolina Professors of Middle Level Education).  Dr. Burkett currently serves as an application and site reviewer for the South Carolina Association for Middle Level Education's Schools to Watch Program.
At the USC College of Education, Dr. Burkett serves as Executive Director of Gamecock EdQuarters which leads the student services enterprise including advising, clinical experinces, and the Teaching Fellows program. This endeavor allows College of Education teacher candidates a "one stop shop" for all of their student services needs. The Gamecock EdQuarters  mission is "we are one team recruiting, retaining, and preparing quality education professionals through mentoring, guidance, and support." Dr. Burkett is proud to lead this endeavor.
Burkett earned his bachelor's degree from Newberry College, his master's degree in education from Columbia College and his doctorate of education in higher education administration from Nova Southeastern University.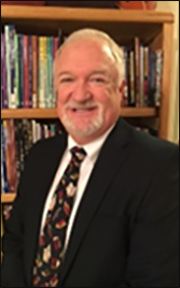 SC Professors of Middle Level Education Representative, Dr. David H. Vawter
Dr. Vawter has been in a classroom for over 30 years in secondary schools including one internship in administration and 17 seasons as a head coach.  He then coached for six more years at Springfield Middle School.  His enthusiasm for classroom teaching, teacher preparation, and helping experienced teachers improve has never declined.   He has done over 850 presentations and training sessions in over 47 states and provinces.  He has published works on Block Scheduling, Differentiation, ESL, and Brain compatible instruction.  He trains experienced teachers and teacher candidates to work with students of poverty.  He has severed as a Winthrop Faculty in Residence for two years where he spent one day a week in Sullivan Middle School.  In 2017 he was awarded the Jennifer L. Wilson Teaching Excellence Award for his work with South Carolina's middle schools.  He is President of the South Carolina Professors of Middle Level Education.   For fun, he teaches both tennis and dance and would love to spend more time working on his golf game.  He teaches and is a member of the drama team at his church.  He is married to a nationally recognized middle school science teacher.  While his son is an environmental engineer his daughter has followed the family tradition and is a teacher.  Spending time with the family, which include their dog, a corgi-golden mix, is his favorite thing to do.  But all this pales in comparison to spending time with his young grandson.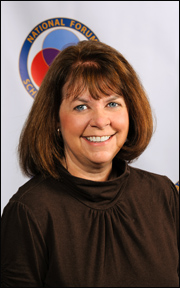 SC Association for Middle Level Education Representative, Ms. Tina Jamison
Tina Jamison currently works at the South Carolina Department of Education in the Office of School Transformation in the role of External Review Team Coordinator. Prior to coming to the SC Department of Education, she taught high school English for nine years. She has a bachelor's degree in English and a master's degree in Educational Administration from the University of South Carolina. At the SC Department of Education, she has served as the Program Manager for State Priority Schools and the state coordinator for High Schools that Work/Making Middle Grades Work improvement frameworks. She also serves as co-director for South Carolina's Schools to Watch program, chair for the National Forum's Schools to Watch Fidelity Committee, and Executive Director of SC's Association for Middle Level Education.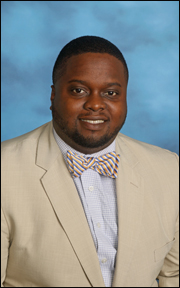 Principal Representative, Mr. Byron Johnson
Byron Johnson is the second of three sons born to William and Joann Johnson in Camden, SC. Mr. Johnson graduated with honors from Camden High School in 1994. He decided to continue his postsecondary education at the College of Charleston where he was very active on and around campus as a Resident Assistant, a Residence Counselor for College Experience and SPECTRA summer programs, a member of the Black Student Union and Kappa Alpha Psi Fraternity, Inc. Mr. Johnson was nominated for and awarded the Eugene C. Hunt Award for Leadership during his junior year and an award Excellence in Collegiate Education and Leadership in his senior year. He graduated in 1998 with a double-major; receiving a Bachelor of Science degree in Accounting and Business Administration.
Mr. Johnson began his career as an educator at Haut Gap Middle School, where he taught for six years earning Rookie Teacher of the Year and Teacher of the Year accolades while there. In 2005 he earned a Master's in Technology Education from Lesley University and transitioned to a Teacher Coach position for Charleston County School District – working at Haut Gap Middle, Clark Academy and St. Johns High School as a change agent to improve the instructional environment of those schools. At the same time he was accepted into the Charleston County School District's ASPIRE program for teachers seeking to become administrators. Through this program he earned his Master's in Educational Leadership from Charleston Southern University in 2007.
Mr. Johnson is now in his tenth year of employment with Kershaw County School District where he has served as an assistant principal for five years at Camden High School and in his fourth year as the Principal of Camden Middle School. Mr. Johnson is a member of Brookland NE Baptist Church. He is also still actively involved in the Camden Alumni Chapter of Kappa Alpha Psi Fraternity, Inc. He has been recognized as the Southeastern Province Guide Right Director of the Year and as Camden Alumni Chapter's Man of the Year. Mr. Johnson will tell you that above all other accomplishments and recognitions he is most proud of his family – his loving and supportive wife Sherri and their two sons Jordan and Jaden. 
Teacher Representative, Marc Alexander
Marc Alexander is a 6th grade Mathematics and Science teacher at Irmo Middle School.  He is in his 7th year of teaching. Mr. Alexander received his Master's Degree in STEM education from Nova Southern University.  He utilizes his education and real world experiences to incorporate meaningful, research based inquiry style learning into his classroom.  Mr. Alexander's teaching pedagogy allows students to make personal connections to the content being taught in his classroom. He focuses on building relationship with every child to insure all students are inspired to learn and achieve at a high level. In 2017 he was named the South Carolina Outstanding Earth Science Teacher of the year. Mr. Alexander currently serves as the science department chair and is a teacher technology leader.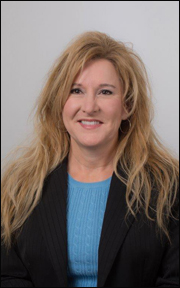 Higher Education Faculty Representative, Dr. Bridget Coleman
Dr. Bridget Coleman is a Professor in the School of Education at USC Aiken. She leads the university's Secondary Mathematics Education, co-directs the Middle Level Education Program, teaches mathematics methods courses, and supervises field experiences.  She has over 25 years of teaching experience in K-12 and post-secondary education with most of those in middle grades education. She served as Co-PI for South Carolina's Center of Excellence in Middle-level Interdisciplinary Strategies for Teaching (CE-MIST, 2008-2015). She earned National Board Certification in Early Adolescence Mathematics and the SC Gifted and Talented Education Endorsement. She currently serves as President of the South Carolina Professors of Middle Level Education and is a board member for the South Carolina Association for Middle Level Education. She is also an active member of the Association for Middle Level Education and the National Association for Professors of Middle Level Education. Bridget has contributed many national and state presentations and publications related to middle level education.  Her research interests include curriculum integration and instructional strategies to enhance conceptual understanding.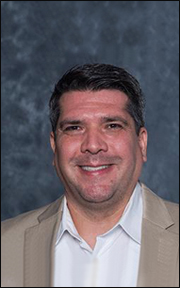 Higher Education Professor Representative, Dr. George J. Roy, University of SC Associate Professor, Mathematics Education
George Roy is an Associate Professor of Mathematics Education at the University of South Carolina. He received his undergraduate degree in Mathematics from Rollins College and attained his Master of Education in Mathematics Education from the nationally recognized Lockheed Martin/University of Central Florida Academy for Mathematics and Science at University of Central Florida (UCF). George went on to receive his Ph.D. in Education with an emphasis in Mathematics Education from UCF. During his doctoral program, his primary area of research focused on preservice teachers' development of mathematical content knowledge. Prior to his position at USC, he taught middle school mathematics for eight years at Orange County Florida Public Schools. During his public school tenure, he achieved a National Board of Professional Teaching Standards certification in Early Adolescence Mathematics. Currently, Roy teaches mathematics methods courses as part of Middle Level Education program in the Department of Instruction and Teacher Education. His current research efforts include examining uses of dynamic technology in middle school mathematics classrooms.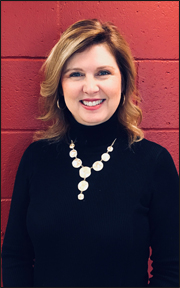 Principal Representative, Ms. Deedee Westwood
Mrs. Deedee Westwood has 28 years of experience in education, all in Newberry County as a middle school educator. She is currently serving her eleventh year as the principal at Mid-Carolina Middle School in Prosperity. She was previously an instructional assistant, social studies teacher, cheerleading coach, sponsor of many clubs, curriculum coordinator and assistant principal. She was also honored as Teacher of the Year during her teaching experience.
Mrs. Westwood is a product of the Newberry County School system. After graduating from Newberry High School she attended the University of South Carolina where she attained a Bachelor of Science Degree in Political Science. She was also a Carolina Coquette with the USC Marching Band and Little Sister for Zeta Beta Tau. Her teaching certification was earned from Newberry College and her Masters in Educational Administration and Supervision from Clemson University. She has also earned National Board certification in Social Studies and endorsement in Gifted Education. She was named the South Carolina Association of School Librarians Administrator of the Year for 2013.
Mrs. Westwood currently serves as an application and site reviewer for the South Carolina Association for Middle Level Education's Schools to Watch Program. She has presented varied topics of middle school interest at the local, state and national levels. She has served as an Adjunct Professor for Columbia College and advisor for Newberry College student educators. She still finds time to be an MCMS Jr. Beta Club sponsor and coordinator of school events. She currently serves on the SC Beta Club Council. Mrs. Westwood has served as a mentor for middle school teachers, assistant principals and principals. She is a member of the South Carolina Association of School Administrators, the local and national Literacy Association, and SC Association for Middle Level Education.
Mrs. Westwood also enjoys serving her community. She has been on the Newberry County Rotary Board of Directors and the Lutheran Church of Redeemer Council.
Mrs. Westwood enjoys reading, walking, cooking, visiting the beach and spending time with her family and friends. She has been married to her husband Benji for 30 years and has two children, Austin and Adam. She welcomes all to MCMS and is a passionate advocate for all middle school children.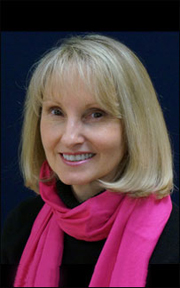 Education Community Representative, Dr. Marsha Moseley
Dr. Moseley is a graduate of Winthrop University (BA), The University of South Carolina (M.Ed), and Capella University (Ph.D.). She recently retired as Director of Middle Level Curriculum and Instruction in Richland School District Two. Her past experiences include elementary and middle level ELA teacher, ELA and Social Studies Middle School Curriculum Specialists, District Literacy Coach for middle and high schools, Early Childhood Coordinator, Title I Coordinator, ELA K-5 Coordinator, and Interim Executive Director of Special Services. She also taught adjunct classes on reading and brain research through Coastal Carolina University.
Currently, Dr. Moseley is a Leadership Coach for Southern Regional Education Board (SREB) and works in schools across the Southeast to strengthen teacher efficacy and develop leadership skills in school administrators.
Dr. Moseley's states her primary goal is to ensure the needs of teachers and administrators are met so they might support student achievement and growth as students master the skills and traits reflected in The Profile of the South Carolina Graduate.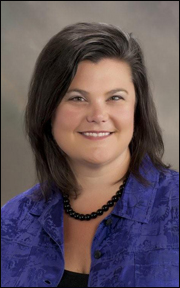 Dr. Cindy Van Buren, University of SC Assistant Dean for Accreditation and Professional Partnerships
Cindy Van Buren has 29 years of experience in education in South Carolina. She previously served as the Deputy Superintendent for the Division of School Effectiveness for the South Carolina Department of Education. In this role, she led five offices, 160 staff members and managed an overall budget of $87 million. Her experiences included working with educator evaluation, educator licensure, alternative routes to licensure, implementing new legislation, standards development and implementation, educator preparation, charter schools, school improvement, school leadership and virtual education.
Prior to being appointed to this position by the State Superintendent of Education she worked in the agency as the Director of the Office of Educator Services where she initiated a statewide review and revision of outdated licensure requirements in SC and oversaw the beginning stages of the transition from NCATE to CAEP standards for educator preparation programs.
Previously, she was a tenured professor at Newberry College where she spent one year as the Assistant Dean for Academic Affairs.  She focused on implementing academic initiatives that had the potential to transform the college. She served as the Director of the RETAIN Center for Excellence focusing on teacher retention in high needs schools and funded through a grant from the SC Commission on Higher Education. She applied her experience and background in mentoring, teacher education and school leadership to RETAIN activities.  She also focused heavily on starting a graduate program and fundraising for academic projects.
During the previous six years as Chair of the Department of Education at Newberry College, the teacher education program increased from 60 students to over 325 students and the department added three new majors leading to teacher licensure.  She led the department through a very successful NCATE visit in 2011. Her leadership enabled the program to grow to a level of strength and prestige on campus and in the state. She was awarded $2 million in grants and outside donations while at Newberry College.
Prior to her tenure at Newberry College, she served as Director of Teacher Education for Winthrop University and Assistant Professor of Educational Leadership. She has also been a high school teacher and assistant principal at Rock Hill High School. She has an affiliation with the Southern Regional Education Board/High Schools That Work Initiative.
She has served as Chair of the Professional Review Committee for the State of South Carolina, on the CERRA Board of Directors and the Winthrop University Board of Trustees. In 2010, she was awarded the SCICU Professor of the Year Award.